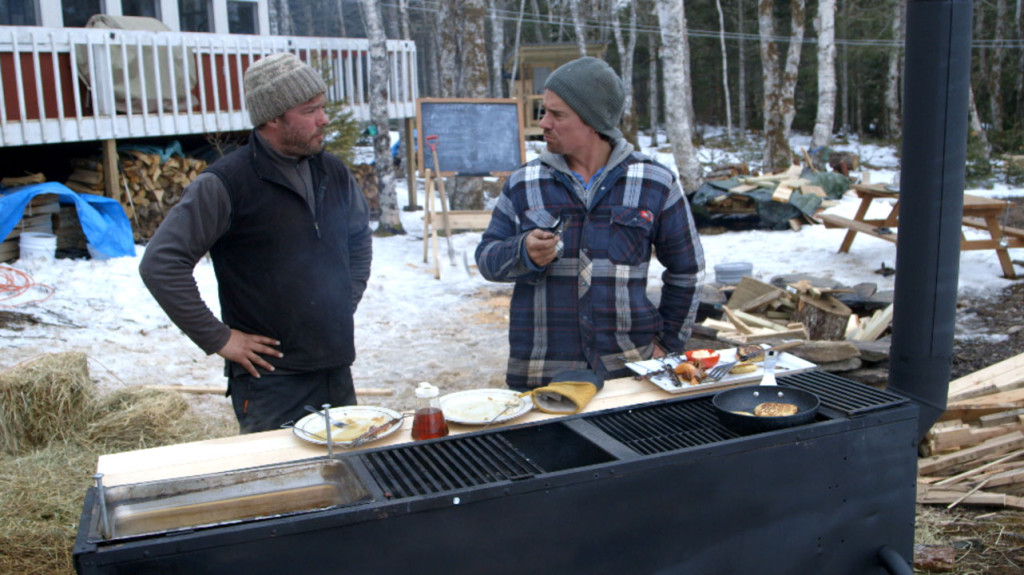 Aside from making things out of trees, we can make things from trees. In Brojects Episode #12, The Ultimate Breakfast Bar, Andrew and Kevin realize they could have been tapping the property's maple trees for syrup ages ago. Don't make the same mistake. Here are 6 ways to get the most out of your cottage trees. 
1. Maple Syrup. The true Canadian sweetener, maple syrup can be added to anything from pancakes to ice cream. Plus, some bottled homemade maple syrup always makes an excellent gift.
2. Fruit and Nuts. Eating fresh from your own backyard is one of the great gifts, especially if you have fruit trees. Chestnuts, walnuts, apples and peaches all make excellent snacks and fresh. The climate and exact strain of each plant affects when it ripens, usually between July and November. Just make sure you're at the cottage when it comes times to harvest your spoils. Rotting fruit can be an especially attractive snack for the neighbourhood raccoons or bears.
3. Citronella. Save money on mosquito repellant by planting a few citronella plants around your cottage. Citronella will naturally keep the mosquitos away all spring and summer. Citronella plants don't like the winter though, so bring it inside before the the frost.
4. Pine Cone Crafts. Pine cones are one of those wood items that a clever and crafty person like Andrew can use to fuel a thousand ideas. You can cover a pine cone in peanut butter and birdseed to hang as a bird feeder, or you can glue them to a picture frame, or make them a part of a dining room centrepiece. Your imagination is only limited by how much glue there is in the glue gun. They also make good fuel for the fire pit.
5. Pine Needle Tea. Did you know you can make tea out of pine needles? Simply clean the needles and pour boiling water over them. Once the colour of the needles starts the fade, the flavour will have infused the water. Take out the needles and add a squirt of lemon or sugar.
6. Hammock. Like nature's bedposts, two well placed trees will give you shade while catch up on your latest book or have a quick nap. Plus there's nothing more relaxing than watching the clouds through a canopy of swaying leaves.