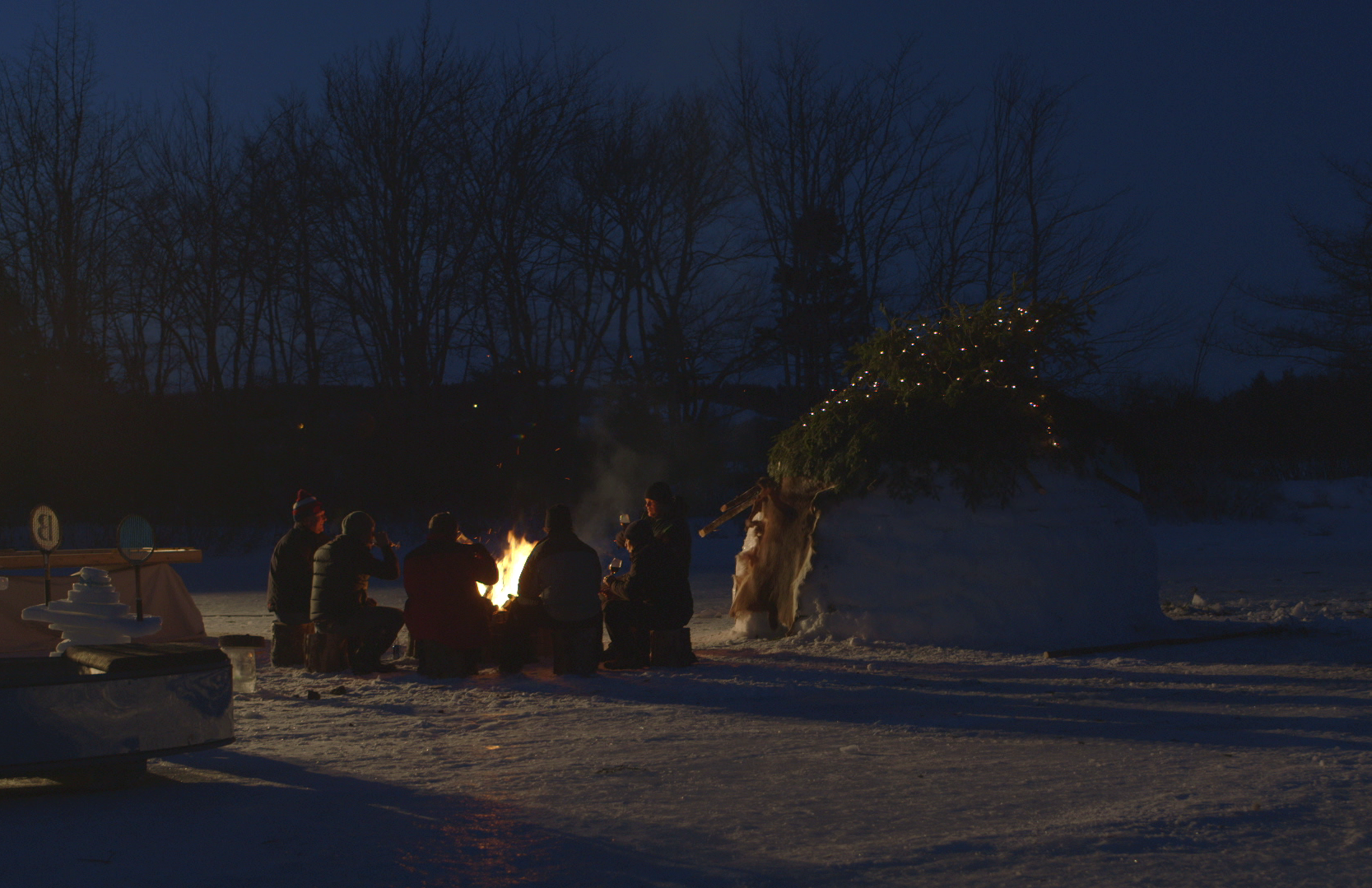 Yeah, yeah, we know…. summer isn't even here yet and we're talking about winter and building ice hotels. But c'mon, hear us out. First imagine it's the middle of summer. The humidity is unbearable and your air conditioner is busted! You're tossing and turning in bed desperate for some relief. Now imagine there was a chilled out igloo in the backyard that you could escape to? See! Suddenly the idea of an ice hotel isn't that strange, is it?
In this week's episode, brothers Kevin and Andrew decide to build an igloo to accommodate their buddies and serve as a place to party. It's a retreat from their retreat, complete with all the amenities of a luxury boutique hotel.
But before you go and give the boys' ice hotel five stars on YELP, we thought you should know how it stacks up against some of the other (unbelievable) ice hotel getaways.
1. Eskimska Vas, Slovenia: Sure they claim to serve up the best Slovenian sausage around, but is isn't half as good as the Buckle brothers' Bison sausage. Perched on top of a mountain, Eskimsaka Vas can only be reached by cable car and snowshoe. But the effort is worth it, especially if remote is your thing. After all that schlepping to get there, you can reward yourself with a drink at the igloo bar, or try the hotel's version of The Ultimate Toboggan — a downhill snow bike (ie. a bike with skis instead of wheels). Individual igloos are outfitted with snow-block beds covered in warm sheepskin. Cool. And ruggedly manly, too.
2. Hôtel de Glace, Canada: Located 10 minutes from downtown Québec City, this ice hotel is a must-see attraction With its huge snow vaults, crystalline ice sculptures, and forty-four super chill rooms and suites, the Hôtel de Glace has welcomed over 1 million people from around the world since its opening in 2001. It's even equipped with an ice chapel so you can tie the knot. Question is, does it have an Inuksuk sculpture to greet you at the entrance? Next….
3. Sorrisniva Igloo Hotel, Norway:  If life gives you lemons, make lemonade. If it gives you freezing weather, make ice hotels. At least that's the motto in Norway. The Sorrisniva Igloo Hotel is just one of a handful of ice resorts in the Alta region, and the northernmost of all European ice hotels. After a long day of dogsledding (which is really no better than the boys pulling you around in a sled) you'll sleep comfortably by the fire in your sub-zero room, warm in a cozy sleeping bag resting on a bed of reindeer skins.
4. Kakslauttanen Arctic Resort, Finland:
Visitors to Kakslauttanen Arctic Resort can choose between glass or snow igloos. Snow igloos offer visitors a peaceful, silent escape cocooned from the outside world — while the glass igloos, built with an amazing frost-resistant thermal glass, provide amazing views of the northern lights and starry, starry sky. Kids can enjoy a visit to Santa's Resort and even make friends with the local reindeer. For a truly Nordic experience, book your own reindeer-drawn sled ride. Note to Kevin and Andrew: hard to compete with actual reindeer, guys!
5. Ice Hotel, Sweden:  Ok.. we think we may have found a hotel that beats our Brojects hotel. Here is an ice hotel that changes concept and decor every season! The Jukkasjärvi Ice Hotel has artists submit their ideas for the hotel's suites as well as for the reception area, Absolut Icebar, main halls — and church. A jury choses about 50 artists and then the ice sculptures go to work bringing their design to frozen life. The Ice Hotel is only open from December to April. Then it is left to melt. The other kicker? Room rates are about 8500 Swedish Krona a night, which is a little over a $1,000 CDN.