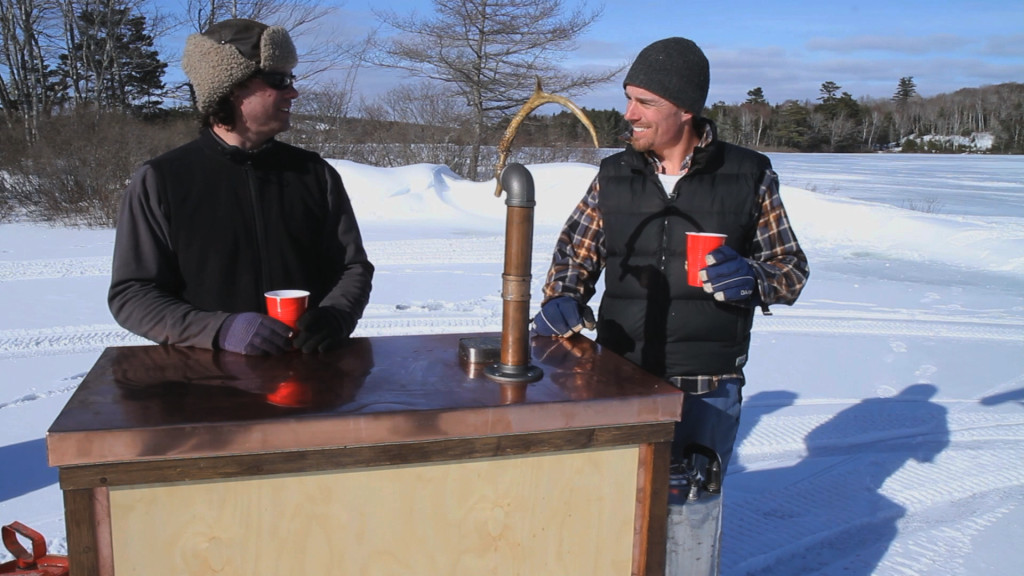 Wish you could wet your whistle while you work? A cold beer is one of the best things to enjoy at the cottage, whether you're working, puttering, or just hanging out. But who wants to be shlepping cases of two-fours around? Not the bros! Andrew and Kevin need a tap they can transport, so they build a mobile beer cart.
Kegs are heavy, so to make the bar portable it needs wheels. This is also handy if the weather suddenly turns nasty. With feet on the front and wheels on the back, the cart can be carted around. But it's also stable when you need it to stay put.
Andrew and Kevin have a CO2 tank in one compartment with a line into the keg in the next compartment. Then another line runs from the keg to the tap.
Since the tank and keg need to be replaced every so often, they have to be removable but snug. Andrew and Kevin build a resting box for the CO2 tank so it doesn't bounce around, and get a large bucket for the keg.
With the help of Walker, Andrew and Kevin insulate the bucket so keg doesn't freeze in winter and keeps its temperature in the summer. A spot for ice around the line to the tap keeps the beer cool right before you pour.
The finishing touches include a countertop and beer tap.
You can make a beer tap out of almost anything you want. While Andrew and Kevin went for an antler, you're only limited by your imagination. The antler is a conversation starter, which admittedly you probably won't need after the first round.
The bros install a polished and easy-to-clean copper countertop. This will shrug off even the nastiest of weather and won't soak up spills.
With that tap, and that top, and those wheels, the mobile beer cart is a DIY party.