Episodes – Brojects: In The House: Season 2
Watch the all-new series Brojects: In The House every Tuesday at 10 pm (ET/PT) on Cottage Life. Season Two starts Tuesday March 14th.
Brothers Andrew and Kevin are turning traditional home and cottage renovation projects on their head as they convert a century-old former lodge hall into the ultimate escape destination.
The brothers are at it again, devising imaginative weekend projects and making over this massive old space with the craziest and most unconventional DIY builds they've ever done.
Episode 1: Courtyard Fire Pit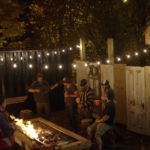 Brothers Kevin and Andrew love spending summer nights out on the backyard patio: it's cozy, warm and inviting — the only problem is that it's actually their neighbour's. After overstaying their welcome and finally getting the boot, the brothers are now looking to create an outdoor space to call their own by bringing the favorite feature of their old lakeside cabin to their new ultimate retreat with their Courtyard Fire Pit. Combining fun, friends, a roaring fire, and plenty of Brojects flair, their's will surely be a backyard to boast about.
Episode 2: Indoor Pool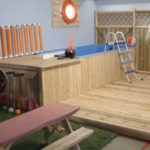 Brothers Kevin and Andrew are looking to make a splash by bringing year-round swimming into the basement of their ultimate retreat. Yearning for the fun times had at the summer pool parties of their youth, they're floating the idea of their very own indoor pool — a unique swim-in-place, stationary pool modelled after a picture-perfect suburban backyard, complete with custom-built swimming contraptions. But with the possibilities of catastrophic floods and electrocution, the guys are headed into dangerous waters and better hope there are no leaks in their plan!
Episode 3: Book Nook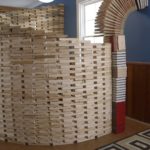 A new chapter is about to unfold at the grand old hall that brothers Andrew and Kevin are converting into their ultimate weekend getaway. The brothers are re-writing the rules of reno — this time, with their Book Nook: a novel, tucked-away alcove that puts a premium on privacy, where the bros can go to relax, recharge and most importantly, read. With only a few days to complete its innovative beehive-inspired design, unique encyclopedia archway, and comfy, reclined seating, the guys'll have to book it to get it all done in time or else be forced to shelve the project.
Episode 4: Indoor Kids' Campground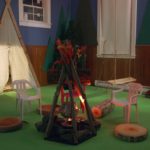 Brothers Kevin and Andrew, along with their engineer pal Walker, will have their hands full this weekend as they've been tasked with daddy duty. Their wives have dropped off the wee ones at their ultimate retreat, and now it's up to the fellas to create a safe and fun space for their children to run wild. They're building the Indoor Kids' Campground, an enchanting camping experience that takes the great outdoors indoors, complete with a tent-themed hideaway, a forest of faux trees, comfy log seating, rope swings, fishing games and a child-friendly campfire.
Episode 5: Scotch Golf Den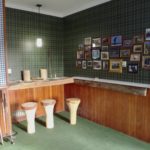 Brothers Andrew and Kevin are teeing up a retreat-within-a-retreat when they convert a room of their house into the Scotch Golf Den: an indoor Highland getaway with all the sights, sounds, and tastes of Scotland. Paying tribute to both the Scottish national sport and drink, they're taking a swing at pairing 18 holes of the top links courses in the world via an immersive golf experience, with the finest 19th Hole as well — a unique sand trap-inspired whisky bar stocked with top-notch single malt scotch. Chip in a splash of bagpipes and a slice of haggis, and their guests will be proclaiming "Great Scot!".
Episode 6: Portable Balcony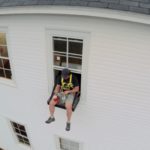 Things are starting to look up for brothers Kevin and Andrew at their newly-acquired getaway destination. Looking to maximize their spectacular views and heighten their balcony game, they're building a picture-perfect perch that can travel to all corners of the house. Secretly tucked away inside a wardrobe, their one-of-a-kind Portable Balcony features a cantilevered platform that extends out from any window. But having raised the stakes this high in their most dangerous build ever, will their lofty ambitions for the upper deck come crashing down?
Episode 7: Indoor Food Truck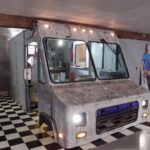 After suffering through yet another sub-par cooking experience at their weekend getaway, brothers Kevin and Andrew decide it's time to pump the brakes on their current reno and order up a kitchen makeover. Not ones to buck a trend, they're jumping on the bandwagon, shifting into high gear and building the Indoor Food Truck, a trendy gourmet façade that will disguise their outdated culinary prep zone. Promising to pair their creation with some foodie-friendly haute hot dogs, the bros will have to really put the pedal to the metal with friends and family waiting anxiously to see what they grill up!
Episode 8: Hangover Hut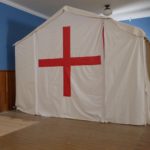 Fun nights at brothers Kevin and Andrew's new weekend getaway are high-spirited in more ways than one. But plenty of cheer and beer until the wee hours of the morning can leave the boys feeling worse for wear the next day, which is why they're turning their attention to creating the ultimate Hangover Hut — a recovery room for curing the ails of too much ale. They're outfitting this new healing space with everything a groggy partygoer could long for, topped by plenty of ventilation, nourishment, hydration and bad movies from the comfort of their own motorized electric beds and fully staffed by a robotic helper at their beck and call.