Episodes – Season 3
Watch Brojects every Thursday at 9 pm (ET/PT) on Cottage Life. Season Three starts Thursday October 22nd.
Brothers Kevin and Andrew are returning to their cottage sanctuary for a third season of Brojects to engage in even more challenging and quirky DIY cottage building projects.
The brothers are at it again, devising imaginative weekend projects aimed at turning the family cottage into the ultimate weekend getaway, while also learning the true meaning of brotherhood and family.
Episode 1: Ultimate Outdoor Mobile Kitchen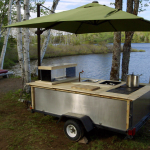 This weekend, brothers Andrew and Kevin set their sights on building the Ultimate Outdoor Mobile Kitchen, a cookout station on wheels that they can tow along on their cottage adventures with everything needed to create the perfect surf 'n' turf experience. With a bunch of hungry mouths to feed but not a lot of time to get the job done, the heat is on and the pressure is building. The boys better be ready when sparks fly because this is one ambitious plan that might just blow up in their faces… literally!
Episode 2: Ultimate Rooftop Patio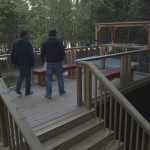 Brothers Andrew and Kevin have been known to go over the top when it comes to their DIY creations and their latest is no exception – they're bringing an upper deck party to their lakeside family cottage by converting the roof of their workshop into the Ultimate Rooftop Patio. Brimming with imaginative and quirky ideas that cover all of their food, drink and fun needs, there's no shortage of star attractions — this weekend, the sky's the limit.
Episode 3: Ultimate Outdoor Bedroom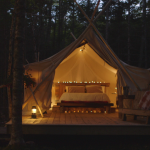 There's just never enough room at the family cottage so brothers Kevin and Andrew decide that it's time to build a proper guest tent – a seasonal outdoor sleeping area that'll be cozy and dry. Knowing the idea of camping in a tent will be a hard sell to their wives, the boys decide to go the extra mile and tap into their feminine sides to conjure up a rustic chic aesthetic for this "glamping" project. Their goal: a fully-furnished outdoor bedroom that looks like it fell out of a magazine, picture perfect for a luxurious and romantic getaway.
Episode 4: Ultimate Beach Wagon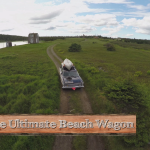 When brothers Andrew and Kevin acquire a 1967 Ford Country Squire station wagon — a wood-paneled beauty with bench seats and a big block engine – they take one look and think the same thing: Ultimate Beach Wagon. A roof-mounted solar-heated shower and portable seafood taco stand will put the "ultimate" into the experience, while a custom one-of-a-kind stand-up paddleboard will help these boys tackle the mighty ocean waves. Getting ready – this is surf and sun with a Maritimes twist!
Episode 5: Ultimate Covert Man Cave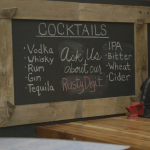 There's one thing that brothers Andrew and Kevin love more than building projects at their family cottage and that's pretending to build while doing nothing at all. Determined to disguise their laziness from their wives, the boys have hatched a secret plan to turn their workshop into the Ultimate Covert Man Cave. Nothing is what it seems in this speakeasy-inspired creation — behind every tool cabinet, beneath every workbench, are hidden beer fridges, sound systems, and games waiting to be uncovered. The boys are about to learn, however, that doing nothing can be awfully hard work.
Episode 6: The ATV-Powered Barge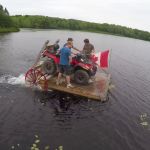 No strangers to launching unique floating contraptions, brothers Kevin and Andrew may have finally figured out a way to get their 4-wheel all-terrain vehicle from their cottage property onto the island in the middle of the lake: The ATV-Powered Barge. On this latest amphibious vessel, however, their ATV is not only the cargo but the engine as well. Powering itself over the water, the brothers' ATV is truly all-terrain! With their engineer friend Walker aboard, the boys are hatching a scheme to convert a treadmill, a floating dock and pair of old wagon wheels, along with Andrew's precious new ATV, into a paddlewheel ferry unlike any you've ever seen.
Episode 7: Ultimate She-Shed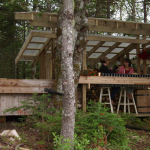 Brothers Andrew and Kevin look to their wives for inspiration this weekend as they embark on creating a picturesque She-Shed at their lakeside family cottage. Their female version of the man cave will come complete with its very own wine bar making it the ideal spot for their hard-working better halves to uncork and unwind. Just as a marriage of wine and wood form the structure of a great vintage, this Ultimate She-Shed strives to be a perfect blend of form and function. But as always, with these two bros in charge, always expect plenty of "whine" and a barrel of laughs.
Episode 8: Ultimate Boathouse Bed & Breakfast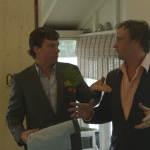 For brothers Andrew and Kevin, the boathouse at their lakeside family cottage has been "anything but" for as long as they can remember. Instead of a cozy sleeping bunkie where guests wake to the best views of the lake on the property, as originally envisioned by their mom and dad, it's been little more than a neglected storage area. All that is about to change this weekend when the brothers decide to turn their parents' dream into a reality, updating this untidy space into all it was meant to be and more. New walls, ceilings, furniture and decor — there are going to be plenty of surprise makeovers in store when the boys fashion the Ultimate Boathouse Bed and Breakfast.
Episode 9: Ultimate Driveway Tennis Court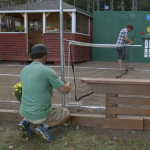 This weekend, brothers Kevin and Andrew are putting a unique spin on yet another college mainstay. Upon realizing that their newly-installed driveway might in fact be the flattest, most level piece of ground on their lakeside family cottage property, the brothers seek to take full advantage by serving up the Ultimate Cottage Driveway Tennis Court — a multi-use area that's not just for cars, but also doubles as a playing surface for a variety of racquet sports including tennis, badminton and squash. A retractable multipurpose net, scoreboard, VIP spectator lounge and elevated umpire chair are just some of the many features the brothers will be looking to ace.
Episode 10: Soap Box Racers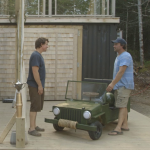 While brothers Kevin and Andrew are used to having their cottage building projects go downhill, it's never been intentional… until now. This weekend, the brothers are in a race to the bottom — of the hill, that is — when they go head-to-head in their Ultimate Soapbox Derby Racers. The brothers are putting pedal to the metal — or more accurately, metal to the pedals — fashioning speed machines using whatever they can beg, borrow or steal (from each other, naturally). The stakes are high and the hill even higher — "winning" this race might just mean reaching the finish line in one piece. Get your crash helmets on and buckle up — this one is bumpy Brojects ride you don't want to miss!
Episode 11: Floating Ice Cream Bike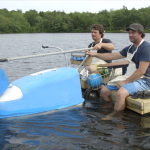 It's another summer day at the cottage and for brothers Kevin and Andrew, there's no better way to stay cool than with a quick dip in the lake followed by a scoop of ice cream. Of course, what would make it even better is if they didn't have to wait until they came back ashore to partake in tasty frozen treats. Starting with an old ice cream bike, the boys are attaching a table, benches, a soda fountain, and floatation to create a seaworthy ice cream parlour for serving up ice cream floats in the middle of the lake. Decorated in a fun shark theme, the Brojects Floating Ice Cream Bike is sure to make everyone in the water scream for ice cream.
Episode 12: Ultimate Bread Oven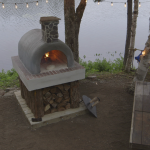 While brothers Kevin and Andrew may be a little short on food up at their lakeside cottage property, they're not starved for ideas on how to solve their dilemma. Since the foundation of a delicious sandwich is great bread, the boys are sinking their teeth into the Ultimate Bread Oven: a barrel-vault wood-fired brick oven that not only looks impressive but also produces exceptional artisanal loaves. Piling brisket and chicken into the smoker and whipping up a feast of homemade toppings, fillings and spreads, these bros are rising to the challenge — better bring an empty stomach and plenty of beer!
Episode 13: Ultimate Floating Fire Pit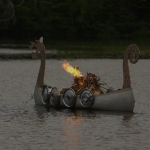 Campfire sing-alongs are the highlight of the cottage experience for brothers Kevin and Andrew at their lakeside family retreat and this weekend, they've invited guests from all around the lake for the ultimate end-of-summer hootenanny. Always seeking new ways to make a splash, the bros are moving their fire pit from land to water and floating their jamboree out onto the middle of the lake. It's not going to be smooth sailing but they're going to try with a little help from their friends — their engineer pal Walker is on the way and he's bringing his own brothers along for the ride. Time to tune that old guitar and grab a paddle, the Brojects Ultimate Floating Fire Pit is ready to rock!