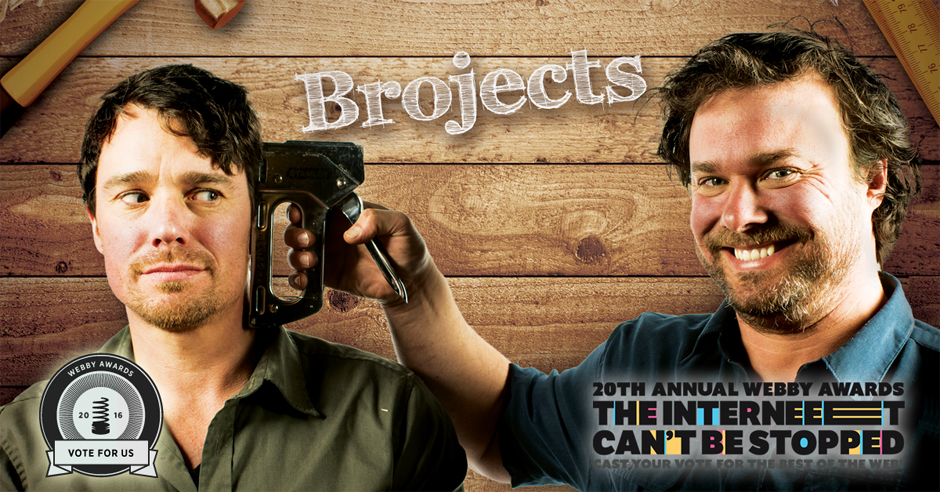 Toronto, ON [April 11, 2016] — Brojects, the half-hour TV and web series that puts a comic spin on DIY cottage projects, has been nominated for a Webby Award in the "Best Online Film & Video – Video Channels & Networks — How-To & DIY" category. Starring brothers Andrew and Kevin Buckles, Brojects is produced by Farmhouse Productions, in association with Blue Ant Media, and with the participation of The Bell Fund. The series is distributed internationally by Blue Ant International and currently airs on Cottage Life (Canada), Discovery NL (Belgium, Netherlands and Luxembourg) and as Lake Guys on Great American Country (US). Season 2 of Lake Guys will have its US premiere next month (May 5th) on Great American Country with an evening-long marathon. A spin-off series, Brojects: In The House premiered March 17th in Canada on Cottage Life.
"It's a tremendous honour to receive this nomination for Brojects" says Kent Sobey, Executive Producer, Farmhouse Productions. "Kevin and Andrew's creativity, ingenuity and sense of fun are infectious and we're extremely excited the Webbys and the Internet community have recognized our efforts to bring that to the screen."
Brojects' webisodes are available exclusively on the Cottage Life DIY channel on YouTube where the Buckles brothers' antics have played a big role in helping the channel amass nearly 195,000 subscribers worldwide and over 12.5 million views.
Fans can vote online to help Brojects win a People's Voice Award. Winners will be announced on Tuesday, April 26, 2016 and honoured at a star-studded ceremony on Monday, May 16, 2016 at Cipriani on Wall Street in New York City. There, they will have an opportunity to deliver one of The Webby Awards' famous 5-Word Speeches.
The Webby Awards are presented by the International Academy of Digital Arts and Sciences (IADAS) and are the leading international award honouring excellence on the Internet.
Brojects was created by Kent Sobey and Andrew Buckles. The brand is overseen by Sam Linton, VP Production for Blue Ant Media. Producers are Kent Sobey, Andrew Buckles, Howard Ng and Kevin Buckles.
About Farmhouse Productions:
Farmhouse Productions is a film, television and digital media production company based in Toronto, Ontario. Productions include Brojects, Brojects: In The House, SOS: Save Our Skins, Papillon, The Time Traveler and Air Guitar in Oulu.
– END –
For more information, contact:
Julie Giles, greenHAT Digital
Tel: +1 416-878-5328
Email: julie@greenhatdigital.com