Brojects is partnering with ten craft breweries all across Canada and hiding gift certificates wherever they go… and it's up to
you

to go find them!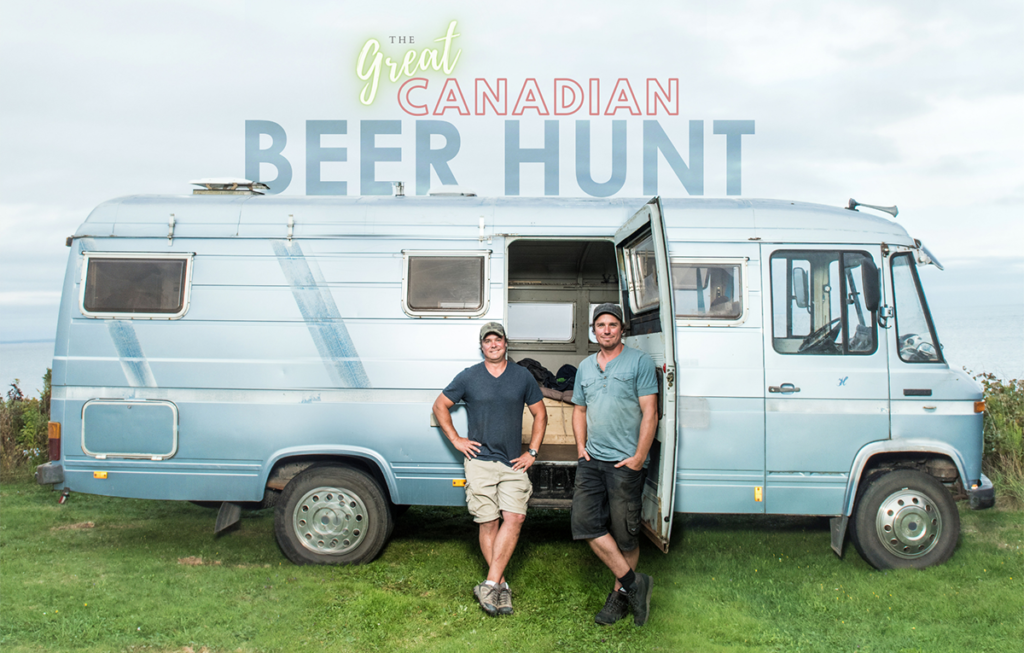 This summer, Andrew and Kevin are en route east to west driving their vintage camper van from Halifax to Vancouver Island, a full coast-to-coast odd-yssey, where Andrew has big van life plans for the future of this classic camper. In their wake, as a token of gratitude to the places they pass, the brothers are disguising and hiding treasure in the form of ten carefully-disguised beer kegs. It's the first-ever Great Canadian Beer Hunt! Now, filling the kegs with actual beer would not be responsible, of course, so instead, the kegs each contain a gift certificate redeemable for merchandise at local participating craft breweries.
The brothers, along with the participating craft breweries, will be posting clues on social media that'll leave a virtual bread crumb trail to where the kegs are hidden. Everybody is encouraged to document/film their hunts and the winners will be contacted to tell their stories. But first, in order to join the hunt, find the hidden kegs and be eligible to redeem the gift certificate inside, you must:
be 19 years of age or older, as of December 31, 2021;
read, understand and agree to abide by the official Rules and Regulations listed below;
AND, sign up on the official entry form below.
Rules and Regulations
Brojects NS Limted. ("Sponsor")
THE GREAT CANADIAN BEER HUNT (the "Promotion")
OFFICIAL TERMS AND CONDITIONS
Open to residents of Nova Scotia, New Brunswick, Prince Edward Island, Ontario, Quebec, Manitoba, Saskatchewan, Alberta, and British Columbia (the "Participating Provinces")
No Purchase Necessary. These Official Official Terms and Conditions and Regulations ("Official Terms and Conditions") govern the Promotion.
PROMOTION PERIOD: The Promotion ends at 12:01 am AST on December 1, 2022 (the "Promotion End Date").
ELIGIBILITY: The Promotion is open to any legal resident of Canada who is of legal drinking age in their province or territory of residence, who is not an employee, contractor, agent or representative of the Sponsor its their affiliates, agencies, distribution companies, and who is not an employee of the applicable provincial liquor agencies, license control/boards and their licensees, retailers, or distributors (the "Provincial Liquor Authorities"), prize suppliers, the Promotion judge (collectively "Promotion Parties"), or a member of the immediate family of, or domiciled with any of the foregoing persons. For the purpose of these Promotion Official Terms and Conditions, "immediate family member" means spouse, parent, child, or sibling. The Provincial Liquor Authorities are not connected with this Promotion in any manner whatsoever and are not liable in any way whatsoever in regard to any matter which relates to this Promotion.
PRIZES: There are ten (10) prizes available to be won consisting of gift cards with a value of at least One Hundred Canadian Dollars ($100 CAD) from local micro-breweries in each of the Participating Provinces. There will be one (1) prize available to be won from each participating micro-brewery.
HOW TO PARTICIPATE:
IMPORTANT: By participating in this Promotion, you agree to participate in accordance with, and be bound by, these Official Terms and Conditions, and you confirm you are of legal drinking age in your province or territory of residence.
(a) Register your name, email and phone number on our website at brojects.tv or brojects.ca and accept these Official Terms and Conditions.
(b) Follow @brojects on Facebook, Instagram or Twitter and the participating microbreweries (see below) for clues on where the Prize is hidden.
(c) Follow the clues to find the hidden Prize in your location (see below).
(d) Record yourself finding the Prize and share/submit to Instagram, Facebook or Twitter tagging @brojects and the participating microbrewery (a "Video Submission"). You can also upload the video to a file hosting website (examples include Dropbox or Google Drive) or to a video hosting website (examples include YouTube and Vimeo) and mail the link to beerhunt@brojects.tv .
(e) Visit the local microbrewery for your province to redeem your Prize.
Participating Microbrewery list subject to change at any time and without notice. Please check back regularly.
You agree that in conjunction with your participation in the Promotion, you will maintain safe and appropriate contact with other participants and other people. You will not harass threaten or otherwise violate the legal rights of others. You will not trespass, or in any manner attempt to gain or gain access to any property or location where you do not have a right or permission to be, and will not otherwise engage in any activity that may result in injury, death, property damage, nuisance, or liability of any kind. If you have a dispute with any third party relating to your participation in the Promotion, you release the Promotion Sponsor (and its officers, directors, agents, subsidiaries, joint ventures, and employees) from all claims, demands, and damages (actual and consequential) of every kind and nature, known and unknown, suspected and unsuspected, disclosed and undisclosed, arising out of or in any way connected with such disputes.
DISCLAIMER: While you are participating in the Promotion, please be aware of your surroundings, and play and communicate safely. You agree that your participation in the Promotion is at your own risk.
VIDEO GUIDELINES: The guidelines for Video Submissions include the following:

By submitting the video, you agree to license to Sponsor all rights to your video, in all media, in perpetuity, throughout the universe, for value received, with no further royalties or payments whatsoever. Upon submission, you agree to waive all moral rights (droits moral) in the video including, without limitation, the right to modify the video and the exclusive right to exploit the video and all spinoff, publications, merchandising, multi-media and other ancillary rights in all manner and medium of communication now known or in the future developed, without further payment of any kind.
Any persons, logos, trade-marks, music, images, or other material in which copyright or other rights may subsist must appear or be used with permission, and Sponsor reserves the right to require evidence of any such permissions from entrants in Sponsor's sole discretion.
Video Submissions must not include defamatory, pornographic, derogatory, inappropriate or obscene content, nor content which may violate the rights of privacy, publicity or any other rights of any person or entity.
Video Submissions which involve, contain or reference anything illegal, potentially or actually dangerous or harmful or contain any element of physical risk may be disqualified from the Promotion.
At no time shall an entrant endanger him or herself or others, take any unnecessary risks or break any laws in the recording of a Video Submission.
A Video Submission which, in the sole discretion of the Sponsor, fails to comply in whole or in part with any of these guidelines, these Official Terms and Conditions, or the spirit thereof, may result in the Prize winner being disqualified, and declared ineligible to win any Prize.
RELEASE: By submitting a completed entry form to enter the Promotion, the winner releases the Sponsor, the participating microbreweries, Facebook, Twitter and Instagram from any and all liability arising out of, or in connection with, this Promotion and the awarding of any prize, now or in the future. By entering this Promotion, the winner consents in writing to the use of their name, city and province where they reside by Sponsor in a format approved by that winner, as well as any audio/video image, statements, and/or photographs in any related publicity and publication without further compensation, worldwide and in perpetuity, in any and all forms of media and social media now known or hereafter devised, including, but not limited to, the Internet, Facebook, Twitter, LinkedIn, YouTube, Pinterest, SnapChat and in any publicity or advertising carried out by the Sponsor, unless prohibited by law. Sponsor reserves the right to post or publish any winner's name, city, or province of residence, photograph, likeness, voice or other statements, as directed by the winner, on its website and/or on the website of Sponsor's affiliated companies and/or on the sponsor's website for advertising and promotional purposes, where lawful, without further compensation to the winner, worldwide and in perpetuity.
RIGHT TO TERMINATE, MODIFY OR SUSPEND: The Sponsor may at any time, at its sole discretion and without liability, terminate, modify or suspend the Promotion in whole or in part, subject only to approvals required by law, if fraud, technical failures or communications or any other errors or other causes beyond the control of the Sponsor corrupt the administration, integrity or security of the Promotion or if any other factor interferes with the conduct of this Promotion as contemplated by these Official Terms and Conditions. The Sponsor reserves the right, at any time, in its sole discretion, to correct any errors, including without limitation, any typographical, printing, computer programming or operator errors. No waiver on the part of the Sponsor to enforce of any term herein shall be deemed a continuing waiver or a waiver of any other term.
RESIDENTS OF QUEBEC: Any litigation respecting the conduct or organization of a publicity Promotion may be submitted to the Régie des alcools, des courses et des jeux for a ruling. Any litigation respecting the awarding of a prize may be submitted to the Régie only for the purpose of helping the parties reach a settlement.
RESIDENTS OF CANADA, EXCLUDING QUEBEC: All issues and questions concerning the construction, validity, interpretation and enforceability of these Official Terms and Conditions, or the rights and obligations of entrant and the Sponsors in connection with the Promotion, shall be governed by, and construed in accordance with, the substantive laws of the Province of Nova Scotia without regard to conflicts of law principles. All entrants consent to the jurisdiction and venue of the Province of Nova Scotia.
Official Entry Form