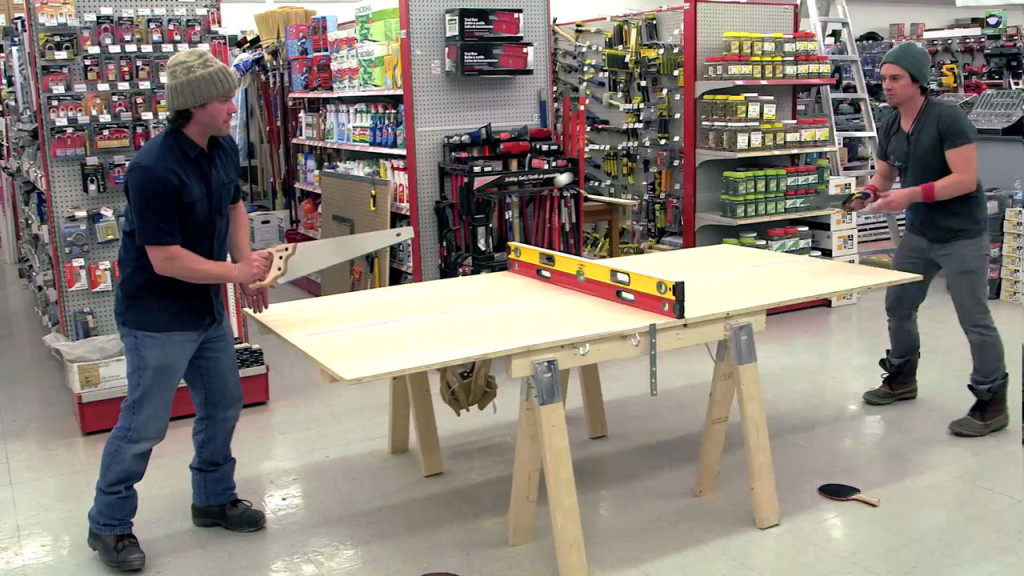 All work and no play makes Jack a dull boy. Thankfully for Andrew and Kevin, Brojects is as much play as it is work. In this week's webisode, the brothers take over their local Timber Mart to build an ordinary workbench that converts into a table tennis workbench.
Like it's a zombie apocalypse, Kevin and Andrew have full run of their local Timber Mart after hours. As usual, they show that with a little ingenuity and supplies and tools that anyone can access, you can make something useful and fun in no time flat.
Combining a work bench and a ping pong table is one of those ideas you wouldn't think about until someone suggests it. Then you wonder why it hasn't already been done.
The key for Andrew and Kevin is that they need to make the system modular. That way their table can easily transform from workbench to ping pong table and back again without much fuss.
Placing a hinge on the table proved to be a bust. It's bulky and it doesn't provide the tightest joint.
The key is to get the pieces of the table to fit together just like an extra leaf in a dining room table. This keeps the workbench compact, and makes sure the wood doesn't strain and warp. That keeps the ping pong table smooth and level.
The lights let you work in the dark, the moveable peg board lets you hang your tools to keep them organized. And it turns out you can even have a decent game of table tennis with saws.