In Episode 2 of Brojects, the brothers come up with one of their wackiest inventions yet, a deck chair on water-skis. True to cottage tradition, the chair part of the project is modelled after the ubiquitous Adirondack Chair, also known as the Muskoka Chair if you're north of Toronto and the Chaise des Laurentides if you're in The Laurentians. The Adirondack Chair is built to kick back, relax, and last for years no matter the weather. It's the symbol for everything to do with the cottage. Here is a short history of the Adirondack Chair.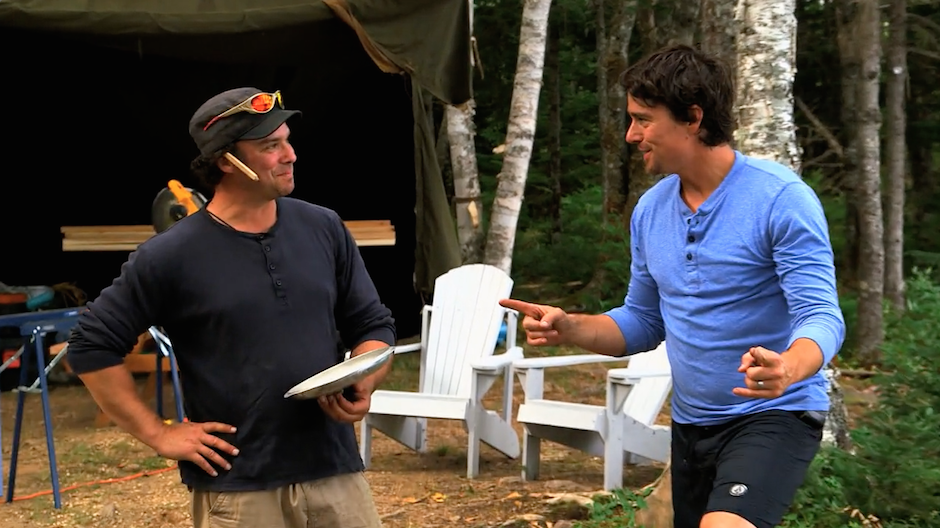 1. Though they're everywhere in Canada, they aren't Canadian. The Adirondack Chair was invented in New York in 1903, by Thomas Lee, at his summer home in Westport, in the Adirondack Mountains, about 120 kilometres south of Montreal.
2. The design was pretty simple: 11 pieces of wood, a straight back, tilted seat, and two wide arms. It was designed for lounging, not merely sitting, which is why the chair is so low and has the perfect tilt. It was built to get into, and to stay awhile.
3. It was originally called the Westport Plant Chair, but was later changed to the Adirondack.
4. It was originally made of Hemlock wood, which was readily found around Lee's cottage. As its popularity spread different types of wood were used, primarily pine and cedar, though you can now found the chair made out of brightly coloured plastic.
5. The design of the Adirondack Chair changed slightly over time, with the addition of a rounded back and slightly curved seat in 1938 being the most dramatic. The popularity of the chair increased in 1940 when cottage goers were able to order kits through the mail.
6. The design has proven so popular, that the chair has been expanded into swing sets, love seats (and even Chair Skis). It even comes in kid-size. Plus you can get them in nearly any colour, in case your time at the cottage isn't bright enough.